Is it a good idea to get a sump pump in the Markham area?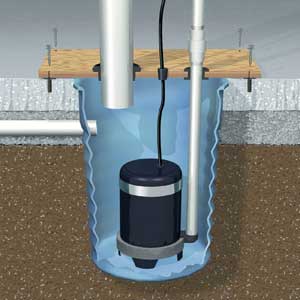 Homeowners in cities like Markham that are near areas of high precipitation or bodies of water, should consider getting sump pumps installed in their basement. Basically anywhere that has a lot of groundwater can be a problem for basements because water in close proximity to the foundation walls and floors can cause those barriers to breakdown over time. Allowing water to seep into your basement through cracks in walls and subflooring can make the basement soggy and uninhabitable due to mold and mildew conditions. Homes built without proper gutters or shrubs growing too close to the foundation can allow water to collect, which will also destroy the foundation over time. It is always best to channel water away from your foundation and have a professional perform moisture inspections from time to time. When these things do not keep all of the moisture at bay, it is time to consider a sump pump.
Skilled plumbers should have no problem installing a sump pump and it is really the best choice if you have an extreme situation like standing water in your basement. As mentioned above, there are steps the homeowner can take to resolve minor issues such as keeping debris from building up around the exterior perimeter of the home, leveling the grade of your property, and waterproofing the interior walls and floors with an industrial strength sealant and waterproofing agents. These are good things to try prior to installing a sump pump, but if a problem persists you may have to get one to keep the space dry.
Physical labour is a big part of the sump pump installation expense, but it is necessary to provide the basin you need to collect water that is accumulating beneath your foundation. After a skilled plumber like Waterman has inspected the basement and confirmed a sump pump should resolve the issue, you can expect them to carve out a portion of your foundation and break it up. They will then excavate to a depth of two-and-a-half to three feet so a pit liner can be installed, which allows peripheral water to seep in and collect. The actual pump and loose gravel are then positioned in the bottom of the pit and as water accumulates, it is directed up through a vertical pipe and out of the home. That is the basic design and function of a sump pump.
The new slab is built around the vertical pipe and the pit is covered with a hatch for easy access and future maintenance. This process can run between $2500-$5000 but it can be the difference between a usable basement and one that is uninhabitable. This is a project for a mechanically inclined homeowner and not a novice, so if you fall into the latter category, it would be wise to consult with a local plumbing professional in the Markham area like Waterman that can come out and confirm if a sump pump will be the solution to your problem. They will also be able to provide an estimate for the work and a timeline for when they can complete it.
I called several plumbing/drain companies for an estimate to unclogg my bathtub drain and Jim was the most reasonable in price. I found Jim to be very punctual, quick and efficient. I also had Jim quote on two much larger drain jobs, he took the time to professionally explain the scope of work needed with diagrams and gave a fair price.
The owner, Jim, was recommended to us by a friend who had a damaged (roots) sewer line, as we did, and used his services. We have nothing but good things to say about Jim and his crew. From the onset Jim was prompt, straight forward and very transparent about options.
Recent Posts From The Blog
Request a Quote
Contact Us for Drain Installation in Toronto and Other Plumbing Projects.
24/7 Emergency Service Available!